Flip: Volume 2 - Signed
---
Sale price
$22.99
Regular price
$24.99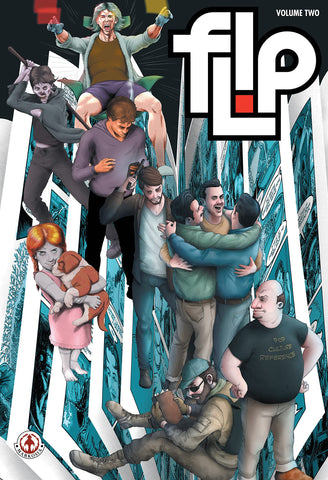 Markosia's alternate reality anthology, Flip, returns with Volume 2, examining even more flipped worlds and real-world what-ifs going against convention. Are all these stories magical speculative flips of reality…or just simply at its essence allegorical character examinations of current day society? Flip through it and find out…
*flip*
FrankenPuppy
A monster tries to make his daughter a puppy, something forbidden by a creator long since raised into legend and a religion. Even monsters give their children their all. A flipped Frankenstory by Derek Künsken and Trevor Markwart.
*flip*
BuddyKar
A flipped virtual reality adventure where life catches up to you quickly…when you try to escape it! A flipped VR adventure by Mike Heneghan and David Brame.
*flip*
True Balance
Discover a world with a justifiable method to punish bullies. A flipped "in justice" by Brandon Crilly and Scott Drummond.
*flip*
Dying Alive
In a world completely populated with zombies for centuries, there isn't much left to hunt or eat. Discover a world long populated by death…and still searching for life. Hunting the last human…first. A flipped horror of hope by Jack Briglio, Miguel Jorge and Jacky Filipe.
*flip*
Red Giant
Is the approaching apocalypse real? Will anyone believe you, even if you have proof? The fine line between dystopias and utopias. A flipped tale of the apocalypse by Josh Stafford and Paulo Montes.
*flip*
Monkey Business
Born Old, Die Young. A chronicle of the lives of three Italian amicos from old age to childhood. A flipped coming of de-age story by Jack Briglio, Hugh Rookwood, and Brenda Weeks.
*flip*
Next
Waiting in line can be frustrating, but it's always worth it for the next big thing! Right? Patience is not a virtue. A flipped fable of forbearance by Jack Briglio and Devin Taylor.
*flip*
The Cancellation
Examine the perils of life insurance where the only constant is corporate greed. A flipped story about accountability by Dan Collins, Andrew Clark, and Audra Balion.
Edited by Jack Briglio
Cover by Miguel Jorge